Expert Strategy Review Facilitation
Have you recently completed the development of your strategic management system but feel uncertain about its implementation? Are you a proficient planner but struggle with maintaining long-term discipline needed for successful execution? Have your strategy review meetings lost their spark, lacking direction or failing to yield meaningful results? It might be time to seek support from our team of experienced facilitators and analysts.
Why Choose Our Strategy Review Services?
Aligning with Strategic Objectives
Our expert facilitators specialize in aligning your strategy review sessions with your strategic objectives, ensuring outcomes that truly matter.
Engaging Facilitation Techniques
Bid farewell to unproductive meetings! Our facilitation techniques are tailored to engage, inspire, and foster collaboration among all participants.
Customized Strategies
Recognizing that every organization is unique, our consulting approach is fully customized to cater to your specific needs, creating strategies that resonate seamlessly with your company culture.
Data-Driven Insights
Make well-informed decisions. We'll assist your team in developing data-driven insights that offer a comprehensive understanding of your team's performance, strengths, and growth areas.
Continous Improvement
Our services extend beyond the meeting room. We're committed to nurturing repeatable processes, enabling your team to flourish long after each session concludes.
What Our Strategy Review Package Includes
Our comprehensive consulting package encompasses five sessions designed to guide your team through a quarterly review cycle:
Initial Planning Session
Mid-Quarter Review Session
Performance Review Preparation Support
The Strategy Review Session
Post-Review Debrief with Recommendations
These sessions will equip your team with:
Strategic Preparation: Collaboratively design an agenda that perfectly aligns with your organizational objectives.
Engaging Facilitation: Our seasoned facilitators will lead discussions, fostering open dialogue, constructive feedback, and innovative thinking.
Performance Analysis: Delve deep into performance metrics and trends to identify opportunities for enhancement and celebrate achievements.
Actionable Insights: Leave with clear action plans that empower your team to take meaningful steps forward.
Ongoing Expert Advisory Support: We remain committed to offering continuous support as you implement strategies and measure success.
Experience Transformation
Transform your routine strategy review meetings into remarkable experiences! With our Strategy Review Facilitation and Consulting Services, you're not just driving change – you're propelling your organization toward a future of unprecedented success.
Contact Us
Ready to supercharge your strategy review meetings for maximum impact? Schedule a free consultation with us today and discover how we can unlock the full potential of your strategic reviews.
The Institute Way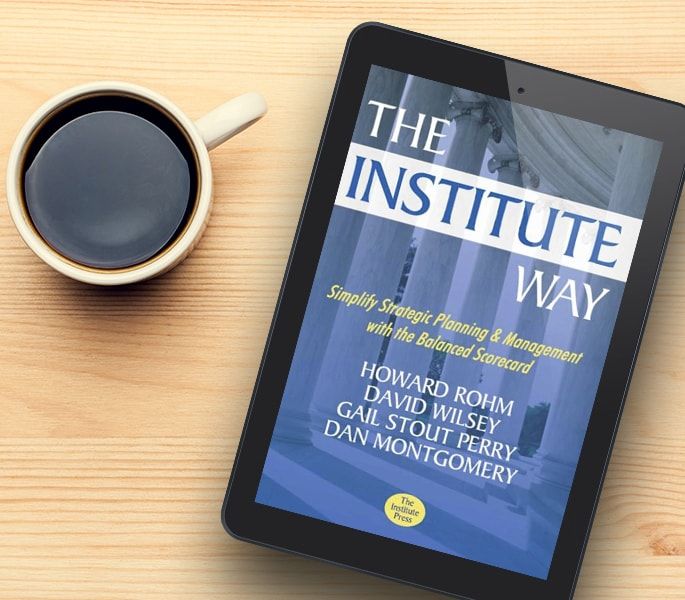 Contact us to find out how we can help your organization

focus on strategy
and
improve performance.