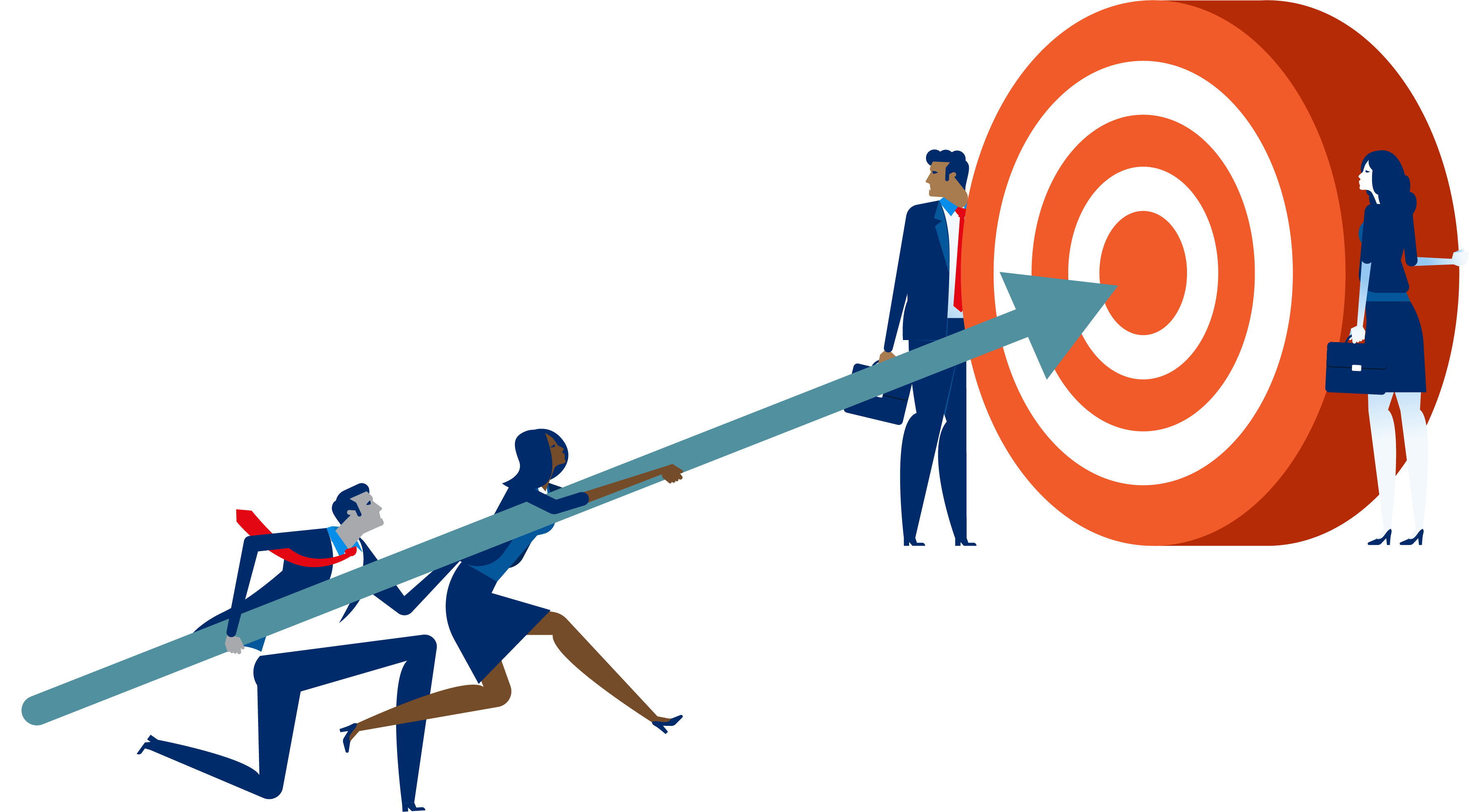 What Is an OKR?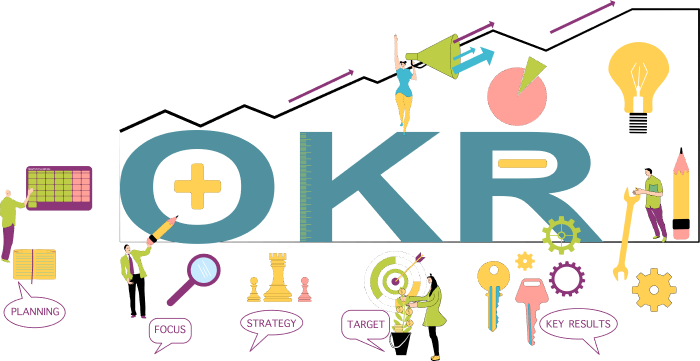 OKR stands for Objectives and Key Results and are used to set goals, track progress, and align actions with an organization's strategy to achieve measurable key results. OKRs are often associated with technology companies (such as Google, Twitter, Spotify, Airbnb and LinkedIn) or those that focus on Agile methodologies. The OKR methodology can be used by any sized organization in any sector and helps create an analytical basis for decision making and helps focus attention on what matters most.

Components of an OKR
The OKR model has two main components: Objective and Key Results.
Objective
An Objective captures what you want to accomplish (a broad goal) in a qualitative sense.
Key Results
Key Results capture/measure what you hope to accomplish in a quantifiable sense.
OKRs are set by everyone in the organization (from leadership down) and can be set individually or on a team basis, but should be aligned with the overall strategy. They are shared transparently and progress is reported on a regular basis, typically quarterly and are often useful to track Initiatives, which are actions or projects implemented to improve Objective and Key Result performance.
Benefits of Implementing an OKR Framwork
Organizations implement an OKR framework to:
Establish a shared vision of desired outcomes
Assess progress
Help employees understand what the purpose is for their efforts
Provide strategic context to help overcome obstacles
Identify resource and budget needs based on desired results
Implement strategy in a more agile manner
Examples of OKRs
Below are a few OKR examples, along with some key results and actions:
Objective: Increase Customer Retention
Key Result 1: Reduce customer churn rate by 15% by the end of the quarter
Key Result 2: Increase the number of customer referrals by 20% by the end of the quarter
Action: revamp and market our customer referral program
Objective: Improve Use of Social Media
Key Result 1: Increase Social Media Engagement Scores by 30% by the end of the quarter
Key Result 2: Respond to at least 90% of all social media messages and comments within 24 hours
Key Result 3: Increase the number of social media followers by 15% by the end of the quarter
Action: write at least 3 new social media content pieces per week
Objective: Improve Product Quality
Key Result 1: Increase our product quality customer satisfaction survey score to 8 or higher within the next month
Key Result 2: Reduce the number of product defects by 20% by the end of the quarter
Action: Implement a new quality control process and train all employees on how to use it within the next month
Objective: Increase Customer Satisfaction
Key Result 1: Improve our customer satisfaction survey score to 90% or higher within the next month
Key Result 2: Launch a customer appreciation program and register 500 sign-ups by the end of the quarter
Action: Launch a customer feedback campaign and implement suggested changes
Typical OKR Challenges
Some typical challenges organizations face when implementing OKRs include:
Relationships between objectives are not always well-defined or clear
Setting impossible-to-achieve OKRs, creating frustration
Inconsistent process, leading to chaos
OKRs designed from the bottom-up lack alignment to organizational strategy
Vague or poorly defined OKRs
Too many OKRs, leading to a lack of focus on what matters most
Not enough follow up or regular review
OKRs being treated as to-do lists, actions or milestone/deliverable measures
Employees "gaming the system" to always achieve their goals
How Does OKR Compare with Key Performance Indicators (KPIs)?
KPIs and OKRs are similar in definition and purpose. Key Performance Indicators (KPIs) are the critical (key) indicators of progress toward an intended result. They help you understand if you are achieving your goals. KPIs create an analytical basis for decision making and help focus attention on what matters most. Like OKRs, KPIs are used to improve performance and achieve goals, focus attention on what matters, and provide evidence to inform decision making.
The primary difference is the way they are implemented. KPIs tend to be tracked continuously on a dashboard, while OKRs tend to be scored quarterly in a yes/no fashion depending on whether not a particular OKR was achieved. When used together, OKRs often detail short term improvement goals related to KPI performance. For example, an organization might track a product quality measure on a dashboard for years and years. A short-term OKR might be to improve that quality measure by 10% by the end of a particular quarter. A personal example might be to track one's weight as a KPI, along with numerous other health measures (e.g. blood pressure, etc.) on a health dashboard. If that person goes on a diet and their goal is to lose 10 pounds (5 kg) by the end of the year, that could be thought of as an OKR.
How Does OKR Compare with Balanced Scorecard (BSC)?
The Balanced Scorecard is a strategic planning and management system that organizations use to communicate strategy, create alignment, prioritize, and improve strategic performance across different perspectives. It is similar to OKR in that it is a framework used to define desired strategic outcomes, measure progress, and drive change. It is different in that it more holistically and systematically communicates how strategy works by connecting the dots between objectives within the system. It is also different in that the time frame tends to be longer (years, versus the typical quarterly OKR schedule).
When developed using a disciplined framework like Nine Steps to Success™, a balanced scorecard connects the dots between big picture strategy elements such as mission (our purpose), vision (what we aspire for), core values (what we believe in), strategic focus areas (themes, results and/or goals) and the more operational elements such as objectives, measures (or Key Performance Indicators), targets (our desired level of performance), and initiatives (projects that help you reach your targets).  (Read more about balanced scorecard).
Can OKR Be Used with Balanced Scorecard?
Using OKRs to manage employee activities and accomplishments is great for most of the organizations, but only if those activities and accomplishments are aligned with shared vision and strategy. Luckily it is easy to use the two frameworks together, adding to Balanced Scorecard the principles that make OKRs so effective, such as a regular cadence of iterative strategy adjustment and a focus on individual accountability, target setting and action planning. To take advantage of the strengths of both tools, Balanced Scorecard should be used to frame and operationalize high-level strategy. Mission, Vision, Values, Goals, Objectives, Measure, Targets, and Initiatives should all be organized and aligned so that individuals and teams creating their OKRs understand what the organization is trying to accomplish. Alignment is created by connecting Objectives at each level and is managed in an iterative, bidirectional manner.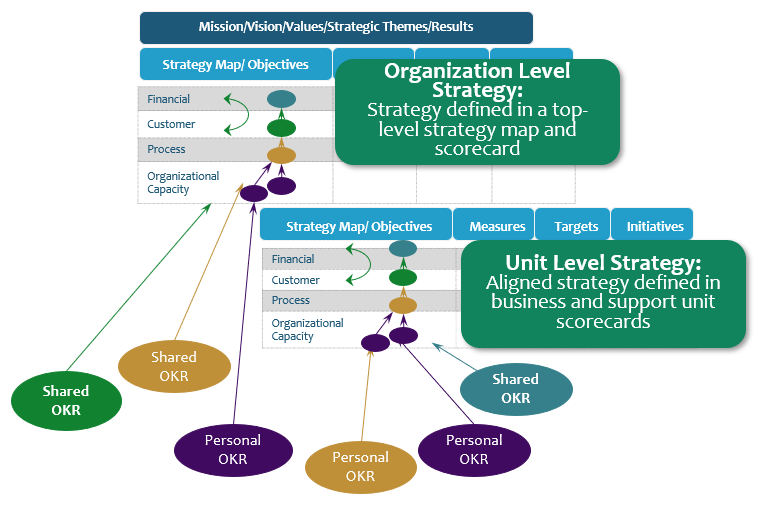 Watch this video, Using Balanced Scorecard with OKRs to Align, Execute and Adapt, to gain deeper insights into how OKRs and Balanced Scorecard methodologies can work together to help strategically align, execute and adapt using agile principles.
OKR History
The OKR framework is an evolution of the Management by Objectives (MBO) methodology created by Peter Drucker in the 1950s. Andy Grove adapted the MBO model at Intel, first calling his adapted approach Intel Management by Objectives (iMBOs) and then later OKR. John Doerr worked with Grove at Intel and then later introduced the OKR methodology to Google. Google's well documented success with the OKR methodology has inspired a surge in popularity of the model.
Embark on Your OKR Implementation Journey 
In the realm of organizational excellence, the fundamental building blocks of success lie within the realms of goals, progress, and objectives. If you're in pursuit of exploring the world of OKRs and aiming to seamlessly incorporate them, our OKR Professional Certification Program is designed with you in mind. This program provides participants with vital coaching tools to skillfully create and carry out impactful OKRs, leading to successful outcomes in terms of goals, progress, and key results.
Elevate your comprehension of OKRs and embark on a transformative journey in the way you approach objectives. Embark on the inaugural steps toward sustained success by immersing yourself in the offerings of our OKR Professional Certification Program  or engaging with our consulting solutions. For an in-depth exploration of our comprehensive training and consulting solutions, or to find resolutions to your inquiries, we encourage you to connect with us via our Contact Us with your inquiries.
Contact us to find out how we can help your organization

focus on strategy
and
improve performance.