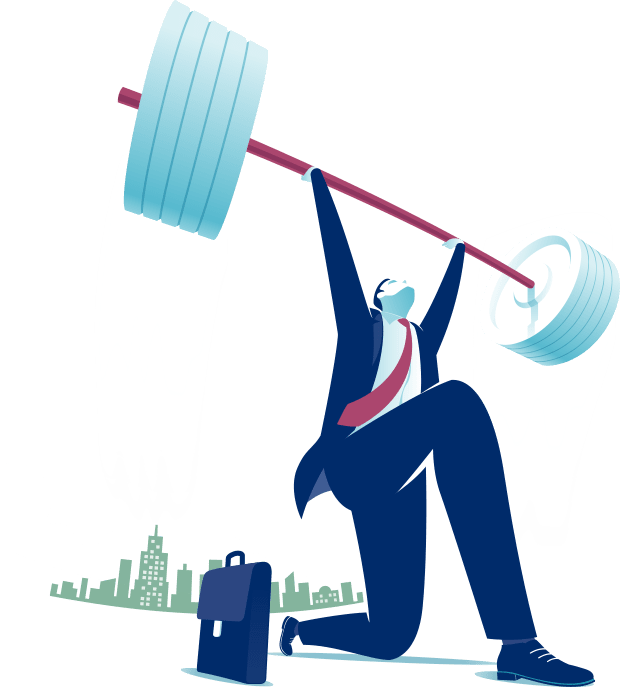 Balanced Scorecard Professional Certification

Learn to Implement a Balanced Scorecard
Balanced Scorecard Institute (BSI) training and certification programs give leaders, managers, and analysts the tools they need to successfully:
Develop and implement a BSC system
Improve focus on strategy and results
Improve organizational performance by measuring what matters
Align the work people do on a day-to-day basis with strategy
Focus on the drivers of future performance
Improve communication of the organization's Vision and Strategy
Prioritize in tough economic times.
BSI has certified strategy professionals through our association with the George Washington University Center for Excellence in Public Leadership since 2006.
BSI has become a trusted advisor and counselor to hundreds of organizations worldwide. Courses are taught by consultants with International experience with all types of organizations.
Balanced Scorecard Professional Certification Program Overview
The Balanced Scorecard Professional Certification Program provides participants with the tools they need to build, implement, and sustain a balanced scorecard planning and management system in their organization. Created by the Balanced Scorecard Institute and offered in association with the George Washington University Center for Excellence in Public Leadership, part of the College of Professional Studies, the certification program is fully consistent with basic balanced scorecard concepts and terminology developed by Kaplan & Norton.
Who Should Attend
This program is recommended for those interested in building, implementing, and maintaining strategic performance management systems, and in learning practical ideas in improving organizational performance. Courses are taught by highly experienced instructors with backgrounds in training and consulting for private, public, and nonprofit-sector organizations.
Balanced Scorecard Professional (BSP) Certification Boot Camp
Get BSC-certified with the original Balanced Scorecard Boot Camp! This course combines the material in the BSP Certification Part 1 and the BSP Certification Part 2 courses into a single course and meets the course requirements for the Balanced Scorecard Professional Certification (exam completion required). The entire range of balanced scorecard topics – organization development, strategic planning and management, objective and strategy mapping, performance measures and target setting, initiative prioritization, automation, and cascading – are all covered in this workshop, which is delivered as a 5-day in-person workshop or as a 10-session live online program.
BSP Certification Part 1
Intro to the Balanced Scorecard
This course introduces participants to the award-winning Nine Steps to Success™ balanced scorecard development methodology. Participants learn how to build and implement a balanced scorecard for any commercial, government or nonprofit organization with a practical step-by-step approach. This course is a practical, "hands-on" workshop that covers best practices, case studies, exercises, lessons-learned, real-life examples and expert facilitation practices. Delivered as the first three days of the Boot Camp or as the first six sessions of the online program.
Participants will learn:
Basic concepts of the balanced scorecard and how it can be used to improve organization performance
How the balanced scorecard applies to different types of organizations
How to build and implement a scorecard using the Nine Steps to Success™ methodology
How to develop strategy maps and initiatives for improving organization strategy and performance
How to develop more meaningful performance measures
The best sequence of steps to build a strategy-focused organization
How to use small group simulations to understand decision choices
BSP Certification Part 2
Advanced Balanced Scorecard
This course builds on the introductory knowledge from Part 1, providing more tools and techniques to help build, deploy, and sustain a scorecard system. The BSP Certification Part 2 focuses on common scorecard development difficulties and nuances found in real-world organizations that have implemented the Nine Steps framework. It delves deeper into the more advanced subjects our trainees have been asking for: strategic thinking, practical examples, details on cascading, budgeting, change management, facilitation evaluation, and more. This course is taught by our most experienced staff. Delivered as the last two days of the Boot Camp or as the last four sessions of the online program.
Participants will learn:
How to think strategically without getting bogged down in tactical details
How to design and implement a scorecard within existing frameworks
How to revise poorly designed scorecard elements
Balanced scorecard "best practices"
Advanced concepts in performance measurement
How to cascade the enterprise scorecard throughout the organization
How to drive a performance-informed budget and build employee accountability
How to overcome obstacles and real-world challenges
The evaluation of planning documents and processes
Why implement a Balanced Scorecard?
The balanced scorecard is a strategic planning and management system used by organizations to communicate and align around strategy, prioritize, and measure performance. The name "balanced scorecard" comes from the idea of looking at strategic measures in addition to traditional financial measures to get a more "balanced" view of performance. Business, government, and nonprofit organizations worldwide use the balanced scorecard system to:
Break down intangible strategic vision into specific, actionable steps
Get everyone focused on strategy
Choose measures that help you achieve tangible results
Certifications You Can Trust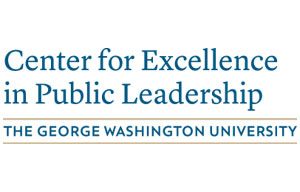 In order to provide a seamless, high quality learning experience for the current and aspiring strategy leaders, BSI has partnered with The George Washington University's Center for Excellence in Public Leadership (GW CEPL), a part of the College of Professional Studies.
Together, our partnership will provide the rigorous, academically grounded, leadership development-focused content and learning environment that is the hallmark of GWU's executive education programs. Our partnership also offers the critical bench strength in teaching, consulting, and program support that enables the highest quality of client support.
Continuing Education Units
All BSI Certification Program participants qualify for GW Continuing Education Units. Attendees completing the 10-day program qualify for 8 CEUs. Those completing the 5-day program will qualify for 4 CEUs, while those taking only the Part 1 or Part 2 courses will qualify for 2 units each.
"Finally, a comprehensive approach that makes sense and ties all of our tools together"
"The BSP Certification Boot Camp was on enriching learning experience. The case studies and peer interactions helped to turn theory into practice."
"This course converted me from a skeptic into a believer."
Digital Certification Badges Available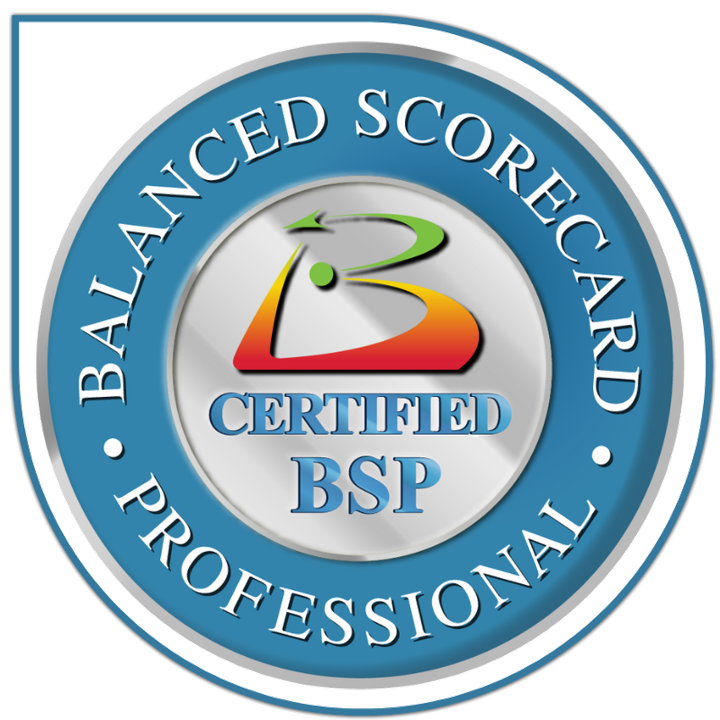 BSC-KPI-OKR: The Alphabet of Strategy Management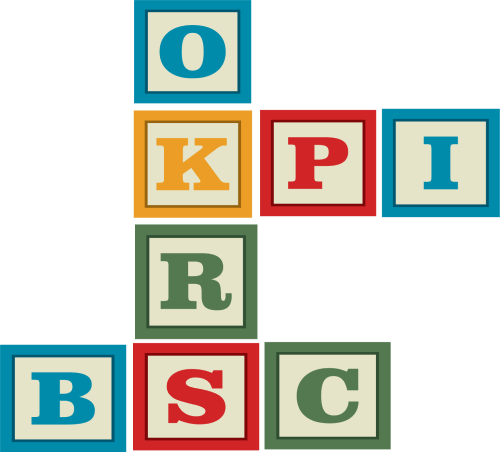 The Institute Way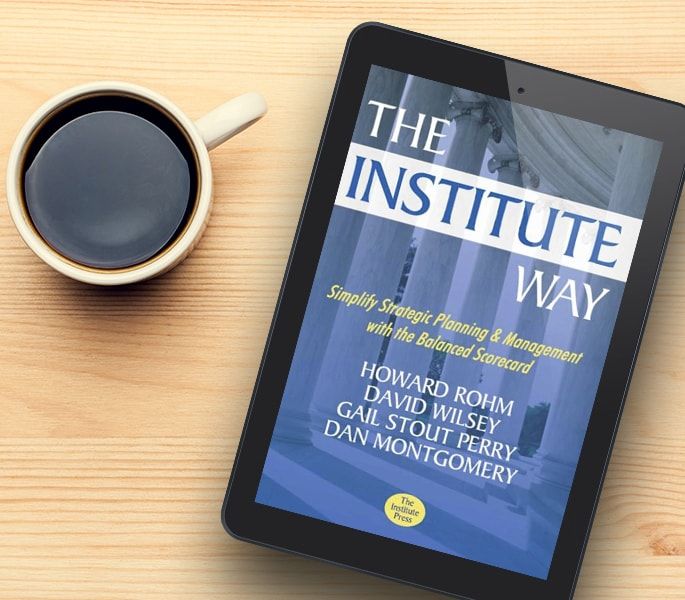 Is Your Certification Expired?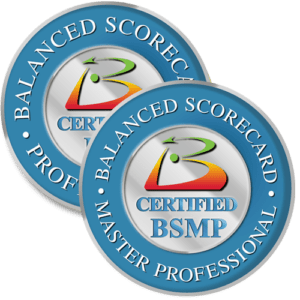 "This is one of the best professional courses I've taken in my career. I will be able to apply the learnings immediately when I return to the office."
"The BSI Certification goes far beyond studying the theory & history of a balanced scorecard management system. This course gives individuals the tools necessary to build, implement, and manage a comprehensive tier 1-3 scorecard at their own organizations. The knowledge & skills gained are successful combination of theoretical & practical application that empower students to facilitate construction of this scorecard from the ground up."
What Makes BSI Training Unique?
Contact us to find out how we can help your organization

focus on strategy
and
improve performance.