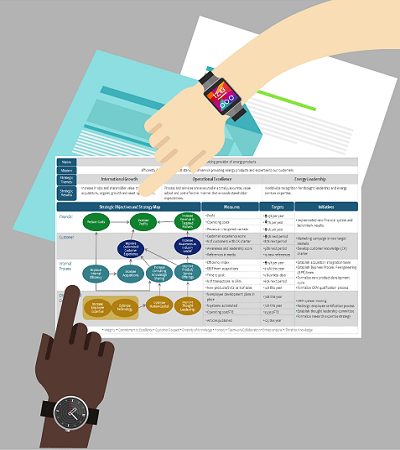 Current adverse world events and the consequent upheaval to businesses have refocused attention not only on planning for highly disruptive events but also on the broader and more fundamental issue of risk management. Many are now asking the question, "Does the Balanced Scorecard (BSC) help to manage risk and if so how?"
The answer to that question is a resounding "YES", and it does it inherently in many ways and at many levels. Additionally, there are mechanisms and tools for integrating risk management with BSC that are built into the Institute's Nine Steps to Success™ scorecard framework.
Let's start with some common risks affecting business strategy and operations: risk of adverse unforeseen external events requiring a shift in strategy, competitive risks, environmental and safety risks associated with business decisions and processes, financial risks, supply chain risks, and capacity risks.
The BSC's four Perspectives prevent a blinkered focus on just financial performance and promote a wider view encompassing other strategic dimensions that span the full spectrum of a company's organization and activities. Taken together, the four Perspectives provide a framework for looking at different risks in each category.
A second contribution to risk management in the BSC is the Strategy Map, which provides a visual representation of the customer and stakeholder value creation process of the organization. In the Map, cause and effect relationships between strategic objectives create a flow of value creation from performance-driving objectives (Organizational Capacity and Internal Processes) to results objectives (Customers/Stakeholders and Financials).  This systematized relational picture gives a clear line of sight to the risks associated with each strategic objective and establishes the foundation for a more comprehensive and explicit risk management system.
Another way risk is accounted for in the BSC is in selecting specific Strategic Objectives that deal with risk. For example, a nuclear power electric utility may have a Strategic Objective titled "Increase Safety Performance in Our Processes" to emphasize this important element of safe nuclear power operations.
Strategic Initiatives, another key component of a BSC, can include initiatives designed to close performance gaps in the current level of a risk element and a desired level. For example, an Initiative around utility worker safety training would focus efforts to improve safe operations in the field.
Likewise, performance measures can be tailored to measure risk performance of many elements affecting business success.
The Institute's Nine Steps to Success™ balanced scorecard framework is a disciplined, holistic way of incorporating and balancing risk and performance in any type of organization operating in any sector.
In summary, from the very first step and throughout the BSC development process risk is identified and considered, and the framework lays the foundation for full integration of risk management.