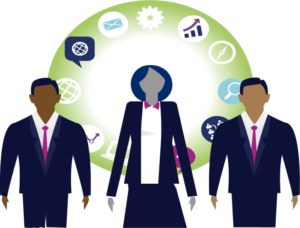 Top-level organizational strategies that are\not cascaded down through the various levels of the organization are just that: top-level organization strategies. Buy-in and support for the top-level strategy will be weak unless middle managers are empowered to provide support, coaching, and facilitation of strategy implementation. Once all organization levels take ownership for their share of the top-level strategy and assign accountability for strategy implementation, the organization should be able to realize a fully aligned organization-wide strategy implementation.
Middle managers have a multi-faceted role to play
According to Clifton and Harter, today's managers are facilitators and coaches for their employees. They are coordinators, speak with authority while still being open to employees' input, and set transparent systems of accountability in a world where work hours are flexible and where work and home life are blended. Today, successful managers are more analytical decision-makers. They are decidedly more future-focused, systems-oriented, curious, open minded, and empirically-grounded.1
Maister states that good middle managers listen, value input, establishes trust, coaches well, communicates well, practices what they preach, and treats other unit members equally. Also, Maister's research indicated that trust and respect at the middle management level was among the top factors in predicting a business's profitability. Further research has shown that where trust and respect between management and employees are high, financial performance goes up.2
Sull et al. propose that in large, complex organizations, execution lives and dies with a group referred to as "distributed leaders," including middle managers who run critical businesses and functions and technical experts who occupy crucial spots in the informal networks that get things done. Distributed leaders, not senior executives, represent "management" to most employees, partners, and customers. Their day-to-day actions, particularly their decision making and behavior management, go a long way toward supporting or undermining the corporate culture.3
The Four Attributes of Strategic Middle Managers
There are four attributes that middle managers need to implement for successful strategy implementation: persistence, intelligence, loyalty and discipline.
First, maintaining a persistent professional approach can mean striving for the best work from everyone on the team, keeping schedules, managing the team members' expectations, and striving for the organization's and team's best outcomes while working in collaboration with the SMO and other department middle managers.
Second, a middle manager in a strategy implementation position must work not only hard, but intelligently. This means they must understand that strategy always does not perform as designed. The COVID-19 pandemic implications are an excellent example of how strategy implementation middle managers had to adapt, improvise, and overcome conditions never before encountered in the past to continue the organization's strategy implementation.
Third, the middle manager needs to maintain a position loyal to the team for strategy implementation at all times. A united intradepartmental and interdepartmental position with other strategy implementation middle managers must carry out a strategy for the whole organization's common good. Strategy implementation is for some departments, units or teams and not for others. Middle managers need to constantly communicate outcomes, propose team-developed interventions to fix problems, and give recognition where recognition is due.
Fourth, once the top-level strategy alignment has been cascaded down to departments, teams, and individuals, the middle manager must establish a disciplined approach to monitoring and evaluation. Monitoring entails taking accountability for a regular cadence of monitoring the strategies strategic objectives' performance through key performance indicators, project milestone attainment, and project budget adherence. The middle manager evaluates the strategy's performance from two perspectives at least four times per calendar year: (1) Strategic Effectiveness and (2) System Effectiveness.
Action for Leaders to Take
Organizations need to initiate a top-level strategy alignment process, thereby making strategy actionable to everyone by cascading the high-level enterprise strategy to business and support units and individual employees. In the alignment process, middle managers need training in strategy management fundamentals. This training will raise the manager's line of sight above the usual operational plan utilization they typically work under each year.
Simultaneously, the top-level strategy and implementation need to become centralized into a Strategy Management Office (SMO). The SMO will support the entire organization by managing all aspects of the top-level strategic plan and incorporating monitoring and evaluation of the departmental middle manager's strategy and the top-level strategy. The middle manager's departmental, employee, and team strategies will soon realize that they are the front-line of the organization's top-level strategy. Their objectives are now explicitly linked to the top-level strategic objectives.
The middle managers' role in strategy implementation work never ends and is critical for the success of the strategy. If you'd like to learn more about managing middle managers in a way to support strategy implementation and alignment, you might read more about our Strategic Planning and Management solutions or Professional Certification Program.
References
Clifton, Jim; Harter, Jim. (2019). It's the Manager: Gallup finds the quality of managers and team leaders is the single biggest factor in your organization's long-term success. Gallup Press.
Maister, David H. (2001). Practice What You Preach: What Managers Must Do To Create A High Achievement Culture.
Sull, Donald; Homkes, Rebecca; Sull, Charles. (March 2015). Why Strategy Execution Unravels – and What to Do About It. Harvard Business Review.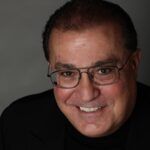 Joe is the Senior Vice President, as well as a senior consulting associate, who has 40+ years of extensive experience in business structuring, strategy formulation/implementation including balanced scorecard use, change management, and the design/execution of innovative operational business models/solutions in the private, public, and nonprofit sectors with first-line and executive level management positions.