No matter the strategic planning methodology, all strategic plans have objectives (i.e., goals) that the organization must accomplish to achieve specific higher-level outcomes. Once developed, organizations tend to assign ownership of these strategic objectives to senior leaders. When a strategic plan is too focused on operational objectives, senior leaders then have non-growth and non-transformational objectives as their most critical personal goals. If this is the case, then who is minding growth and transformation?
To avoid the above cycle, it is important to test your current strategy or spot check your strategy while you build it to ensure it is at the right strategic altitude and balanced. A simple exercise to run with your leadership team is what I call the 'Run/Grow/Transform test'. First, let's define the three categories. Run is work focused on 'keeping the lights on'. Grow is work driving growth of current products and/or services. Transformation includes new products and/or services and new ways of doing things.
Once the categories have been defined and understood, the leadership team should place their strategic objectives under the corresponding category (Figure 1). Some objectives will sit on the border of two categories and that is acceptable as the benefit of the exercise is to drive discussions. Although there is not a best-practice number of objectives for each category, there should be a balance and clear cause/effect relationship between all objectives which ultimately lead to growth and transformation. If your exercise output looks like the below (too focused on Run), it's time to dig into the impact this is having on your strategy execution so that everyone understands why it must be addressed and how.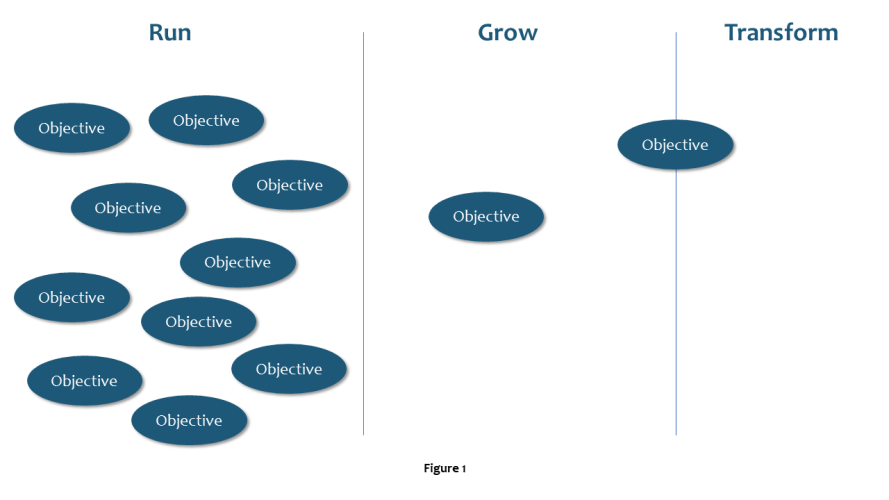 Planning evaluation questions to ask:
During planning, were assessment exercises focused on operational topics or generic brainstorming/solutions? Or were exercises tailored to ensure growth and transformation were discussed (e.g., SWOT focused on growth and transformation)?
Were the right people in the room in the last strategy development workshops?
Did the planning team periodically test the strategy to ensure it captured growth and transformation objectives, projects, and KPIs?
Discussion questions for the leadership team:
If senior leaders own the Run objectives, do they agree that they are too focused on operational 'stuff'? If so, have them elaborate as this may expose other issues.
How has this leadership focus on operational work affected mid-level managers (e.g., are they working at the right level)?
If the strategy is changed to focus on Grow/Transform, do senior leaders have confidence in their subordinates to perform the work they have historically managed themselves (e.g., are new employees/skill sets required)?
How does a focus on Grow/Transform affect strategic project identification/prioritization and performance measures?
Will a reorganization be required to ensure the transition of responsibility and accountability from senior leaders to mid-level managers?
Adding your own discussion topics is important so that it sparks change in the participants. With that said, making sure the right team is present for this exercise is critical. The power of this conversation will likely not have the same impact in a summary report – leaders should experience this as it happens for maximum impact. If important enough, these conversations may lead to strategic objectives, projects, and/or performance measures. By doing so, the organization is taking a transformational leap.
Success is having a senior leadership team walk away more aware of why their current strategy is focused on operational elements and the impact this is having on leaders and strategy execution. This can then be addressed and expanded on in future planning workshops.
You can learn more about strategy execution by visiting our website and by downloading various thought leadership articles, blogs, and webinars.

Richard Juarez, MBA, BSMP, PMP, KPIP, rjuarez@strategymanage.com, is a Senior Consultant, Strategic Planning and Strategy Execution for the Balanced Scorecard Institute/Strategy Management Group. Richard is a performance management expert and thought leader who brings real-world planning and execution experience to his training and consulting engagements. Richard is also a secondary author/reviewer on A Guide to the Business Architecture Body of Knowledge® (BIZBOK® Guide), v 5.1; 2016.