For years, the big guy with the snow-white beard, red fluffy snowsuit, and stocking cap has run one of the most efficient on-time delivery services in the world. He has managed to devise and execute a strategy to annually visit every household in the world over a single 24-hour period, leaving a variety of gifts based on the requests received during the year. While not perfect, Santa's company, the North Pole Express (NPE), has managed to achieve a Net Promoter Score of 98, which is the highest in the industry.
Santa credits his success largely to the NPE work culture and the collaborative process of gathering strategic input, ideas and suggestions from his Elves, Reindeer and, of course, Mrs. Clause. For years, this strategy has been top secret and no one other than those at the North Pole had any access.
In past assessment discussions, Santa took note of a competitor called Amazon. But Santa and his team originally wrote Amazon off as a non-threat, saying, "I mean, Ho! Ho! Ho! Who would have ever thought an itty-bitty online book company could ever grow enough to be a threat and dominate force in the delivery business?"
But in recent years it has become apparent that Amazon has somehow gained access to Santa's strategy and has nearly matched NPE performance levels. Santa fears that one of the elves, who was moonlighting as an author, may have accidentally released classified NPE information to Amazon as part of a self-publishing deal. As Santa believes in fair play, he has now decided to release his strategy to everyone in order to allow others besides Amazon to share in the Christmas bonanza.
Please consider Santa's strategy map, shown below, as an early Christmas present to those who want to know the secrets of the North Pole Express. Merry Christmas!!
And if you need help in getting your strategy map developed, we can help. Contact us>>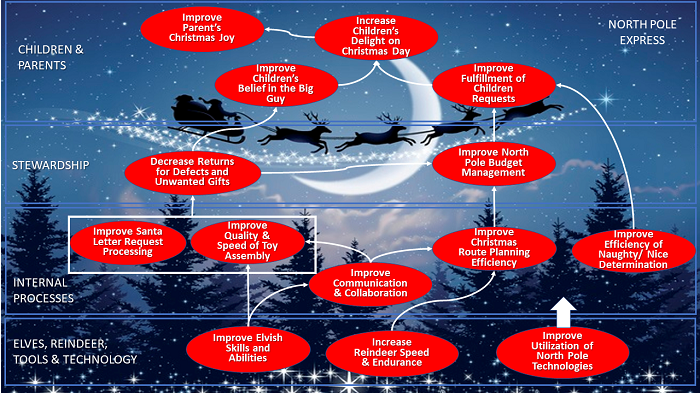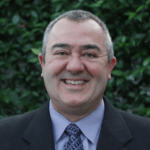 Terry is Balanced Scorecard Institute's Director of Training and Senior Associate with over 30 years of experience working in both the private and public sectors.